Discover paella, the most 'Unique' dish in Valencia.
'Unique': extraordinary or exceptionally good. If we talk about extraordinary Valencian customs, the delicious taste of paella will surely come to mind. It originates from Valencia and nowhere else in the world does it taste as good as it does here, because in this land paella is more of an art than a cuisine.
Paella ingredients
In the recipe for traditional Valencian paella, the authentic one, the main ingredients are chicken and rabbit, ferradura beans, garrofó beans, tomato and, of course, rice with València's Denomination of Origin. All this, accompanied by extra virgin olive oil, sweet paprika, saffron, salt, water and a sprig of rosemary, forms part of the most international dish in Valencian gastronomy. Since its origins in l'Albufera in the 16th century, cooking paella has become a ritual that begins with the selection of local produce. There are other deep-rooted customs that should not surprise you, such as eating it directly from the paella pan with a wooden spoon; or looking for the coveted 'socarrat', a light crispy layer of rice that remains on the bottom of the paella. In addition, we Valencians like to rest the paella with a pleasant after-dinner conversation.
Now that you know the ingredients, you can learn how to cook your own paella here. You will become the perfect host and you will be able to gather all your family or friends around the table, as if you were a real Valencian.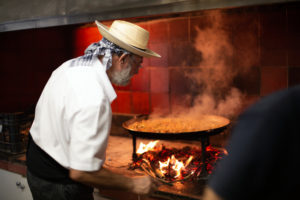 Where to eat paella in Valencia?
Valencia and a good paella are the perfect combination. When you visit the city you have to live this experience, it will stimulate all your senses. You can find authentic paella in many restaurants, but here we have selected three unique ones. Take note!
Casa Carmela
Tradition and history, the restaurant Casa Carmela is a reference point. Founded in 1922 and located on the Malvarrosa beach, for over 100 years they have been cooking what are considered by many to be the best wood-fired paellas in Valencia. A place where the aroma of the Mediterranean mixes with the flavour of the freshest local produce. A must on your list!
Calle Isabel de Villena, 155.
La Barraca by Toni Montoliu
Many of the ingredients in this recipe come from the Valencia market garden. And it is in the middle of the orchard where you can find La Barraca de Toni Montoliu, a restaurant that offers you a unique experience that goes beyond the simple fact of eating paella. When you see the scenery and enter the authentic Valencian barraca, you will be immersed in a traditional Valencian scene, and have you ever wanted to experience it?
Partida de l'Ermita, Meliana
Nou Racó
As we have already mentioned, the origin of our star dish is to be found in the beautiful Albufera Natural Park. Its high scenic value makes tasting paella in this setting one of the most unforgettable experiences you can have in Valencia. In the middle of nature and with views of the lagoon, you will find the Nou Racó restaurant, where you will discover a unique setting and delicious paella.
Carretera del Palmar, 21.
Join the World Paella Day and share your love for paella
Did you know that 20 September is International Paella Day? It is the date on which Valencians share our most international dish with the world. Because this exquisite recipe has thousands of followers, and you can be part of this special day!
Share a photo of your paella with the hashtag #WorldPaellaDay so that everyone can see your recipe or the delicious paella you have enjoyed. In addition, in Valencia we are holding a very unique competition on 20 September: the World Paella Day Cup. Chefs from all over the world compete to see who can cook the best version of international paella. If you want to know more, visit the World Paella Day website.