The best Agua de Valencia
Originally from the city of Valencia, this cocktail is famous for its refreshing taste and its pleasant citric touch that has made it a symbol of cocktail bars and Valencian culture. If you want to know where to enjoy the best Agua de Valencia, don't miss this list of outstanding places.
What ingredients are in Agua de Valencia?
We're sure you're eager to know where to taste it, but first we want to tell you that the Agua de Valencia is the most famous cocktail in the city, perfect for toasting at any time of the day. Its ingredients are: natural juice of Valencia oranges (the sweeter the better), cava, vodka, gin, ice and sugar only if the oranges are not at optimum ripeness. And of course, it has to be drunk chilled and in a champagne glass to maximise its qualities.
Where to drink Agua de Valencia?
Café Madrid
Café Madrid is undoubtedly the best place to enjoy the authentic recipe of the Agua de Valencia. One night in 1959, in this bar in the historic centre, the innkeeper Constante Gil wanted to surprise his customers with a novel cocktail, inventing with local products what is now a symbol of the city. A must-visit!
Calle de la Abadía de San Martí, 10.
Café de las Horas
Looking for charming places? Located in a 19th century building and with a spectacular decoration that combines all the charm of Parisian cafés and English tea rooms, the Café de las Horas is a unique visit for the most romantic ones. Here they serve what is considered by many to be the best Agua de Valencia in the city.
Calle Conde de Almodóvar, 1.
Hotel Palacio Vallier
Welcome to the Palacio Vallier luxury hotel, a five-star establishment located in a former 19th century mansion. Here you can toast with Agua de Valencia in its cocktail bar Lladró Lounge Bar, a sophisticated bar-museum decorated with original designs by the prestigious firm Lladró. If you prefer, you can enjoy your cocktail on its wonderful terrace with privileged views of the Plaza de la Virgen. What do you think?
Plaza de Manises, 7.
Atenea Sky
If you love visiting rooftops to fall in love with their breathtaking views, Atenea Sky awaits you in the Plaza del Ayuntamiento with a delicious and refreshing Agua de Valencia. An oasis in the centre of Valencia with a unique panoramic view. We recommend you to watch the sunset from this place, you'll fall in love!
Plaza de Moratín, 12.
Lolita Bar & Cocktail
Right next to Valencia Cathedral there is an elegant, original, Art Deco-style lounge, one of those places where you feel so comfortable that you never want to leave. It's the Lolita Bar & Cocktail and the Agua de Valencia is among its outstanding cocktails.
Calle del Santo Cáliz, 7.
Mi Cub
When you think of a Unique place to have a drink, the spectacular Mercado de Colón probably comes to mind. Among the many places you can find there, Mi Cub is one of the most outstanding for tasting Agua de Valencia. Have you already added it to your list of visits?
Calle de Jorge Juan, 19.
Café Sant Jaume
We finish the list with another of Valencia's classics, the Café Sant Jaume. There's nothing better than wandering the streets and getting lost in the historic Barrio del Carmen to end the adventure with a delicious Agua de Valencia flavour. Are you up for this plan?
Calle de los Caballeros, 51.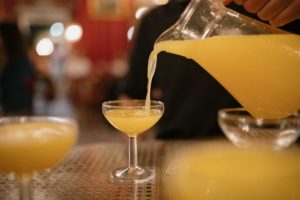 ¿Dónde comprar Agua de València?
Original CV
If you are one of those people who like to give or collect very authentic souvenirs of the cities you visit, how about buying Agua de Valencia as a souvenir?
At Original CV you can get this drink in bottles or cans, perfect formats to take the essence of Valencia home with you. You can find this shop at Plaza del Mercado, 35 or at Joaquín Sorolla train station.