'The World's 50 Best Restaurants' in the Palau de les Arts
In the world of gastronomy, the gala "The World's 50 Best Restaurants" is one of the most prestigious and important events of haute cuisine. Since its creation in 2002, this event brings together every year the best chefs in the world to celebrate the richness and diversity of the global culinary scene. And what better place than Valencia to celebrate it?
What is the 'The World's 50 Best Restaurants'?
'The World's 50 Best Restaurants' is a ceremony that rewards the 50 best restaurants in the world, becoming a barometer of global culinary trends and making known those places where you can enjoy unique dining experiences.
The original idea of the British magazine Restaurant was to classify all the world's culinary diversity in a single classification system. Following its success and with the passage of time, and as an independent event, The World's 50 Best Restaurants has been perfecting the voting system and increasingly it is the experts in haute cuisine who make the list of restaurants.
The importance of the gala lies in its ability to give visibility to the chefs and restaurants that are changing the way we eat and understand gastronomy. An agenda full of activities that includes #50BestTalks, a thought leadership forum; 50 Best Signature Sessions and meetings between chefs that result in exchanges of knowledge and experiences, which contributes to the development of new techniques and flavors.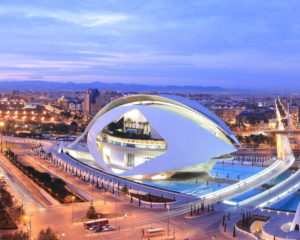 València and the Palau de les Arts
To speak of València is to speak of a Mediterranean city with extensive areas of orchards, natural pantries that offer 365 days a year a local, quality and seasonal products. A place where you can find a great gastronomic variety, cradle of typical dishes such as paella, all i pebre or fideuá and where 8 restaurants with Michelin Star stand out.
All these ingredients make València the perfect place to celebrate 'The World's 50 Best Restaurants' awards and, of course, the spectacular Palau de les Arts will dress up to welcome the best chefs in the world on June 20, 2023.
Modern and avant-garde, this building is part of the emblematic Ciudad de las Artes y las Ciencias and has already hosted such important events as the Goya Awards 2022 and the Michelin Spain&Portugal Gala. A unique enclave for the whole planet to enjoy a brilliant and elegant ceremony.
Are you ready to experience a unique event in València?