8 restaurants in Valencia where you can eat like a star
Eat like a star? Yes, here in Valencia all good things are possible. And in terms of gastronomy, this city offers you an exclusive journey through haute cuisine.
Signature cuisine, local products, food from the garden and from the sea… in short, a delicious journey through great culinary experiences at 8 restaurants where every last detail is taken care of.
Make your gastro plan! Visit the Michelin starred restaurants in Valencia, we present them all here:
Restaurante El Poblet, Quique Dacosta
Boasting two Michelin stars, El Poblet shares with us the philosophy of the master Quique Dacosta, under the wise direction of Luis Valls.
Among the best of the garden, the sea, and the Albufera, this restaurant focuses its offer on the author's gaze. Here the most traditional or forgotten dishes are reinvented, to turn them into contemporary works of art… Attractive and delicious!
Where? At Calle Correos N°8, just 100 metres from the Teatro Principal or the Plaza del Ayuntamiento. Our top tip – don't forget to taste the homemade charcuterie.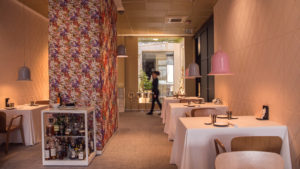 Restaurante Ricard Camarena, Ricard Camarena
Do you want more art served on a plate? We continue our tour visiting Ricard Camarena, a two Michelin starred restaurant. From the old factory, current art centre, Bombas Gens (Avenida de Burjassot N°54), Camarena will attend you in person and prepare the appetisers.
Sourcing the majority of products from their own gardens and committed to sustainability, Ricard Camarena offers all the flavour of Mediterranean food, managing to surprise you with totally unexpected new flavours.
And the desserts are a delight! Low in fat and low in sugar, we can fully enjoy them.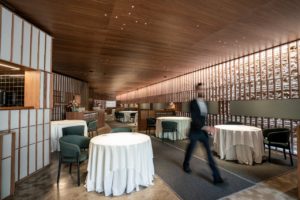 Restaurante Fierro, Germán Carrizo y Carito Lourenço
Fierro, boasting one Michelin star, is a restaurant with an original and challenging concept. All the guests sit around a single long table, despite never having met before. Do you dare? It is very close to the Mercat de Russafa (Calle Doctor Serrano).
It is headed up by Germán and Carito, of Argentinian origin and with a long history and experience together with Quique Dacosta. Their offer is a creative and uninhibited Mediterranean menu, in which pairing plays a main role.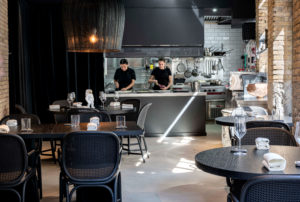 Restaurante Lienzo, María José Martínez
Onwards with the gastro tour! Next, we head to an old art gallery (Plaza de Tetuan), where the restaurant Lienzo will captivate you with the presentation of Mediterranean food, under a creative, sustainable, and local concept. All this set in an elegant and minimalist space, whose decoration by Valencian painters is renewed every 3 months.
The chef of this Michelin starred restaurant, María José Martínez, creatively includes different products made by the bee in the menus: honey, wax, propolis… all without taking prominence from the other ingredients. It is a unique experience!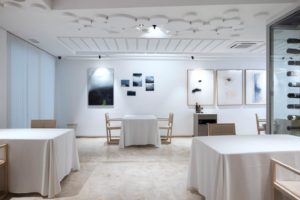 Restaurante Arrels, Vicky Sevilla
Arrels is located in a modern space within a historic medieval mansion, on Calle del Castell, 18, Sagunto. It is commanded by Vicky Sevilla, the youngest chef in the country to head up a Michelin starred restaurant.
Her avant-garde cuisine is based on a creative process guided by her vast experience, but with a deep Mediterranean flavour. The cauliflower, the aubergine, the creams, the smoked sardine… everything is combined in honour of her Valencian roots.
Do you want more haute cuisine experiences? Let's continue…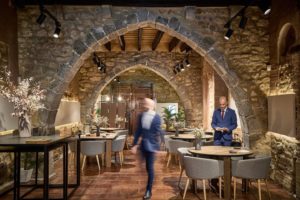 Restaurante Kaido Sushi Bar, Ulises Menezo and Yoshikazu Yanome
At Kaido Sushi Bar the bar is witness to the highest traditional Japanese cuisine, creating a fusion with local products. A Michelin star has been granted to recognise the work of Ulises and Yoshikazu who masterfully captain this ship.
There are only 10 covers for each surface, allowing you to observe and fully enjoy the art of sushi. You can visit at Calle Xile N°3.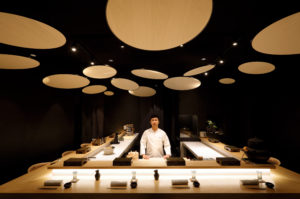 Restaurante La Salita, Begoña Rodrigo
What do you think of a completely bright and natural environment? Restaurante La Salita, in the Russafa neighbourhood in Valencia (Calle Pere III el Gran, 11), offers you that and more.
It is housed in a beautiful old mansion with a garden and its chef Begoña Rodrigo, with a Michelin star in tow, has managed to create a cuisine that fuses the Mediterranean with the flavours and textures of Latin America and the Asian continent. This is a culinary proposal based on her experiences around the world.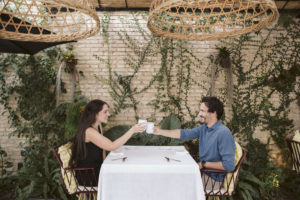 Restaurante Riff, Bernd H. Knöller
Now it's the turn of the Riff restaurant, also boasting a Michelin star. Its chef Bernd Knöller of German origin, is passionate about Mediterranean cuisine, as much as any Valencian that was born in the city. Each of its dishes is a true tribute to the gardens and oceans of ​​Valencia.
Bernd, from Calle Conde Altea, 18, recreates a personal and uninhibited style based on his creativity, ensuring that his traditional dishes reach a different dimension, a dimension that you cannot miss.
Have we whetted your appetite? Take note of these restaurants! And live a Unique experience.