Intramurs, the art festival that conquers the historic urban centre
The Intramurs Festival conquers the streets of Valencia, as its artistic installations, performances or shows can be found from the inside of a plot of land to the balcony of a house.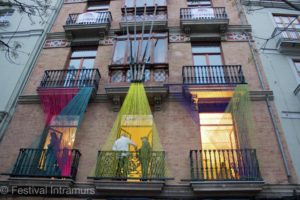 By landing in these areas, which are unusual for art but at the same time so common, this peculiar event creates new points of relationship between society and artists. The name of this festival "for artistic experimentation in the Mediterranean", as the organisation itself claims, is no coincidence and states that the area where it takes place is that which was within the walls of the old city of Valencia. To give you a brief impression, imagine that this is the area framed by the Torres de Quart and the Torres de Serranos, which were once used as checkpoints to access the city.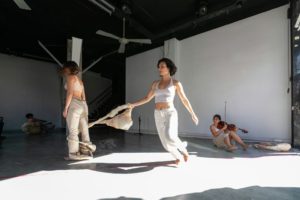 The initiative came from a group of artists in collaboration with the shops in the historic centre, with the aim of always being open to the public without paying entrance fees. The Intramurs Festival is positioned as a reference for forward-looking artistic proposals. The organisation tries to bring together risky proposals, specially designed for use in public areas, i.e. in the middle of the street, and which encourage the participation of the public. They also try to make the active presence of the public a necessary factor in the completion of these artistic proposals.
Each year there is a main theme or leitmotif that will underpin all the proposals made in each issue. In 2019, for example, it was #muralladellum (the unifying idea is always presented in the Valencian language, and in this case it means "wall of light"), and one of the highlights of the festival was a photograph by the photographer Spencer Tunick, which depicts collective acts in iconic locations in major cities around the world.
 "València, pell del Mediterrani" (Valencia, the skin of the Mediterranean) was the name of this initiative, and 1,300 people undressed in front of the camera and with the Serrano Towers in the background. The action was carried out thanks to the collaboration between the General Directorate of Heritage and Culture of the Generalitat Valenciana, the Tourism Department of the Valencian City Council, the Visit Valencia Foundation and the Centre del Carme Cultura Contemporània CCCC.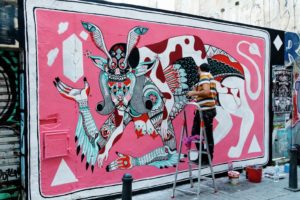 But not all of them are great guest artists at Intramurs, and this is precisely where its value lies since anyone can submit their proposal when the application deadlines begin each year. In contrast to Tunick's initiative, some of the proposals are small workshops or small presentations that you would never find without the map provided by the organisation.
Try to reconcile your next trip to Valencia with this very interesting event for art and culture, and who knows, maybe we will see you participating with your own initiative in the future.